Ultra Luxury Yacht "Ulysses" Drops Anchors off Greek Island of Poros
Ultra Luxury Yacht "Ulysses" Drops Anchors off Greek Island of Poros
The yacht has 43 crews and 20 rooms for crew members
All eyes were on the superyacht "Ulysses" on Monday, which has anchored off the coast of Poros in Greece. The explorer yacht has a private helicopter, a separate 24-meter tender boat, an extra 4×4 car, and a motorcycle. It was reported that Facebook owner Mark Zuckerberg, 10th reachest person in the world with an estimated wealth of $75 billion, had purchased the boat, but the news was denied by the social platform mogul.
The yacht was built at the Kleven shipyard in Norway. The 107-meter Ulysses has a 24-meter tender vessel, a helicopter with its hangar, ATVs and 4×4 vehicle. The ultra-luxury yacht can sail halfway around the world without refueling and is designed to endure the toughest weather conditions, including the arctic circles and the world's hottest regions.
Ulysses can host up to 30 people in 15 private suits. The yacht has 43 crews and 20 rooms for crew members. It can reach a maximum speed of 15 knots. The price of the Yacht is estimated at $195 million.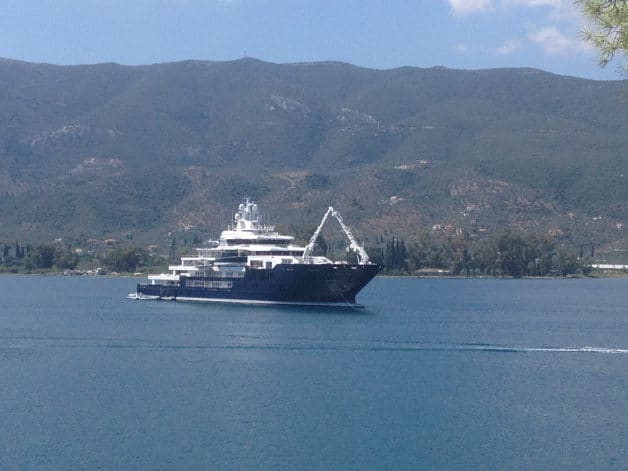 It has been revealed that the 107-meter yacht is owned by Graeme Hart, a New Zealand businessman, reported being the richest person in Australasia with a net worth of USD 10.6 billion.
He prefers to stay out of the general media and makes few public appearances. Graeme Hart has a preference for buying under-performing and undervalued companies with steady cash flows which can be turned around through strong cash management, cost-cutting, and restructuring with other businesses.